Part V of the 100 greatest Cornish People
Here are 81 to 100 - and a few other ideas ....
81 Prof Charles Thomas: Historian, archaeologist, writer, former director of the Institute of Cornish Studies, saviour of Gwithian Chapel, whose books include
And Shall These Mute Stones Speak?
and
Christian Antiquities of Camborne. (http://cornovia-press.wikidot.com/blog:8)

82 Anthony Payne: Standing 7 ft 4 in the 'Cornish Giant' born at Stratton in 1612, was retainer to St Bevil Grenville and appointed Halbardier of the Guns by Charles II.
Dean Shipton
83 Dean Shipton: Launceston rugby ace (right) who captained Cornwall for their county championship victory in 1999.
Cookworthy Ware
84 William Cookworthy: First discovered china clay deposits at Breage and began working it at his factory in Plymouth
85 John Charles Williams: Gardener who worked at Caerhays Castle and Tregwainton, credited with introducing camellias to Britain.
86 Samuel Wallis: Lanteglos seafarer who discovered Easter Island and Tahiti, developed the use of Vitamin to fight scurvy and circumnativated the world in 1766 -68

87 Daniel Gumb: Linkinhorne stonemason, mathematician and astrologer who lived at the Cheesewring.
88 Harold Harvey: Penzance-born artist, only native member of The Newlyn School.
'In the Whiting Grounds' by Harold Harvey, c 1900
89 David Prowse: Marazion poet (b1850), whose collection includes Say One For Me.
Silas Kitto Hocking
90 Silas Kitto Hocking: Methodist minister and author, b 1850, from St Stephen in Brannel, first writer to sell a million books.
91 John Carter:
Free trader born at Breague and known as 'The King of Prussia'. (
http://www.cornwall-calling.co.uk/famous-cornish-people/carter.htm and http://www.cornwalls.co.uk/history/people/john_carter.htm)
(
Where the name of the pub in Fowey comes from?)
92 William O'Bryan
: Preacher born at Gunwen near Luxulan, founded the Bible Christians. (
http://www.britannica.com/EBchecked/topic/1357223/William-OBryan
)
93 Ken Phillipps: Roche dialectician, teacher, scholar, poet, broadcaster, author of Catching Cornwall in Flight.
95 Nick Darke

: Playwright of Portcothan, author of

The King of Prussia

and

The Riot. (

http://www.cix.co.uk/~shutters/reviews/99052.htm)
One of his ships
96 Edward Hain: St Ives shipping magnate, town mayor, county councillor, High Sherrif for Cornwall and Liberal-Unionist MP, knighted in 1912.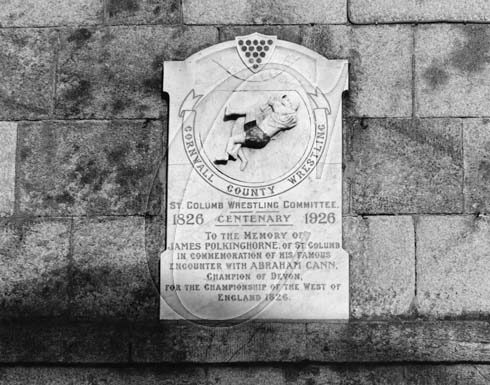 memorial to James Polkinhorne
97 James Polkinhorne: St Keverne wrestler who became West of England champion in 1826.

98: Loveday Hambley: Religious campaigner from St Tudy known at the 'Quaker Saint of Cornwall', she was jailed for refusing to pay church taxes.


the famous ad for Pears' Soap
99 Andrew Pears: Mevagissey-born founder of A F Pears Ltd, first made soap at Lanwhadron, St Ewe, in 1789.
100 William Golding: St Columb Minor novelist, Nobel Prize winner, Booker Prize winner, whose books include Lord of the Flies, and Rites Of Passage.
Here are some also-rans who nearly made it into the top 100:
James Silk Buckingham: Cornish author, journalist and traveller (1786 - 1855).

Samuel Foote: Dramatist, actor and theatre manager (1720 - 1777)

David Gilbert

Ann Jefferies (

http://brian-haughton.com/articles/anne-jefferies-and-the-fairies/

)

Lady Elizabeth Treffry (

http://en.wikipedia.org/wiki/Treffry

)

Augustus Smith: Governor of the Isles of Scilly for over 30 years and largely responsible for the economy of the islands as it is today (lived 1804 - 1872).

Nicholas Holman: Founder of Holman Brothers (

http://en.wikipedia.org/wiki/Holman_Brothers

)

Andrew George MP

Richard Jenkin

Robert Were Fox (

http://www.quaker.org.uk/robert-were-fox-younger-1789-1877

)

Lord Vivian

Sir Geoffrey Arundel

John Trevisa

Rowena Cade

Hill Bawden

Roger Taylor

King Hywel

Sir Bevil Grenville

William Scawen

E G Retallack-Hooper

Matthew Taylor MP

Len Fruran

Josiah Thomas

Andrew Langdon

Samuel Enys

G Pawley White

Isaac Foot

William Bottrell

Jane Trevithick (long suffering wife of No 1 – would she have voted him top?)

John pardoe

Bernard Deakin

Bishop Benson

Radolphus Tonn

Mark Guy Pearse

Gary Tregidga

Robyn Davies

Francis Tregian

Mary Kelynack

Cormoran

Merv Davey

Mary Bryant

W Tregoning-Hooper

Rita Tregellas Pope

Joan Rendell

Thomasina Bonaventura

Pol Hodge

Dr Ken George

Henry Bone

Oliver Foot

Charles Lemon (

http://en.wikipedia.org/wiki/Charles_Lemon

)

Claude Berry

King Mark

Alan M Kent

Sir Henry Quick

Sir Henry Still

Derek Tangye

Kenneth Pelmear

Paul Laity

CC Vyvyan, author.

Charles Peach,(

http://www.geocurator.org/arch/Curator/Vol7No9.pdf

)

D M Thomas

Mark Kaczmarek

Goff Richards

Dr John Rowe

Freddy Zapp (

http://www.freddyzapp.com/

)

Joe Trewavas

Tim Smit

Joan the Wad, the Queen of the Piskeys.

Robert Were Fox, No 10 above
perhaps we could make this number up to 100 as well!
see also:

http://en.wikipedia.org/wiki/List_of_people_from_Cornwall

and

http://www.yor-tec.co.uk/cornwall/famous.htm