You'll never make a mistake again ....
Fashion do's and don'ts
We've all made mistakes . But being well-dressed isn't about spending a fortune - it's to do with knowing what suits you and making what you've got work. Here are some ground rules to help us ...
DO
Take a friend with you to try on something you don't normally wear. It might look surprisingly good, but you'll need a second opinion.

Treat yourself to a new outfit when you lose half a stone.

Wear shoes and tights that are right for what you're wanting to buy - it's hopeless trying to see what a party frock looks like with boots and socks on.

Ask for a discount if what you want has a missing button or a loose hem.
DON'T
Choose trousers without checking the view from behind. Sit down in them too, to make sure they still look OK and feel comfortable.

Buy anything that doesn't go with at least two other things you already own.

Wear lace-up shoes or tight jeans to shop in. It'll double your time in changing rooms.

Use a credit card if you can spare the cash. You'll be less likely to overspend if you buy only what you can pay for now.

Shop with your partner - unless he's one of those rare men who's good at it.
DO: Soften the hard lines of a suit with a lacy top underneath.
DON'T: Pile on too much jewellery or too many accessories when you go out - you'll just end up looking a mess.
DO: Try the men's department for basics like T-shirts or shirts. They're often cheaper and have more choice (and are often more hard-wearing).
DON'T: Wear tights to match your skirt. Match them to your shoes for a slimmer line.
MAKE YOUR CLOTHES LAST LONGER
DO
Clean summer clothes then store them away for the winter.

Leave woollens out for 24 hours after wearing them.

Use padded hangers for delicate items like silk. And never put damp clothes onto a metal hanger - the coating will rust and come off on your outfit.
Wash clothes that have instruction labels saying 'dry-cleaning only' - unless you're willing to risk spoiling them for good (

done that!)

.

Put clothes that need repairing back in the wardrobe. You'll forget about it until the next time you want to wear them, when there's no time for mending.

Hang jumpers for weeks at a time - they'll lose their shape. Leave them folded flat instead.

Let shoes get down-at-heel. Once a month, sort through all your shoes and boots and take them to the mender's.
JUST SAY 'NO' TO ...
Huge shoulder pads - very Eighties!

Tattoos, nose rings - anything that permanently marks you.

Extremely high heels.

Fishnet stockings - save them for a fancy dress party.

Sagging sweatshirts.

Very cropped tops. Only Aussie soap stars can get away with their belly buttons showing!

Plastic belts

Real tortoiseshell or real fur anything.

Bra tops.
Any handbag bigger than a bread bin! (whatever fashion says)
GREAT STYLE SECRETS

DO
Buy basic items in several colours -once you've found a style that suits you and fits well.

Hide elasticated waistbands with a good belt or an attractive scarf.

Stick to just two shades of tights in the winter - black and navy - and buy them in bulk.

Arrange your wardrobe by item, rather than by colour - it's easier for mix-and-match ideas.
DON'T
Throw out something if you really like it. It may be outdated now but in two years' time you could regret getting rid of it.

Force yourself to wear something just because your partner - or your mother - says they like it.

Ask anyone for clothes as a present - unless you can specify exactly the make, size, style and colour you want.

Overdress. If you're not sure what others are wearing to a particular event, keep it simple.

Leave your legs bare in winter. Apart from getting cold, they'll look stark against the winter fabrics and colours.

Wear a Wonderbra under a white body. Choose a subtle, seamless one instead.
Nothing to do with the article but I just love the pic - yuck!!
HOW TO LOOK SLIMMER - INSTANTLY
DO
Go up a size. Wearing a 14, rather than struggling into a 12, will make clothes hang better and give you a smoother, more flattering outline.

Wear suitable shoulder pads in jackets and dressy shirts. They add balance, make hips look smaller and make you look less round-shouldered.

Play up your good bits, rather than always trying to hide the bad ones. Great legs, but no waist? A short, A-line dress will mean everyone notices your legs, not your midriff.

Buy underwear with Lycra in it. Hip slips, minimiser bras and control-panel knickers mean you can wear tight clothes with confidence.

Wear dark,opaque tights with short skirts - they make even average legs look good.

Buy tailored clothes in woven fabrics that hold their shape - rather than jersey knits, which show any bumps.

Choose pinstripes - they're more flattering than wide, vertical stripes.

Wear light colours on top and dark ones on the bottom to balance a pear-shaped figure.
DON'T
Go down a size. You might buy a size 10 to inspire you to diet into it - but it's more likely that you'll never wear the garment.

Try to hide your bulges with big, bulky clothes. They'll make you look as if you're as big as they are.

Wear multi-coloured, patterned leggings - they'll make your legs look much heavier.

Go for very long jumpers. Anything beyond finger-tip level can make you look shorter.

Think wide belts will hold you in. A think belt, in the same colour as the clothes you're wearing draws far less attention to a chunky waist.
LIES! LIES! LIES!
Black is boring

. It's not - it's dramatic, sexy and practical too.

Handbags should match your outfit. Not true - one, neutral coloured bag will go with everything - and save all that time switching the contents.
Navy and black don't go together. But they do! Both also look really good mixed with cream, white or beige.
Prints and stripes make you look fatter. Not necessarily. Small prints and vertical stripes actually make you look slimmer.
You have to be thin to look good in trousers. No - these days there's a style for everyone. Go for front pleats to hide heavy hips, wide-legs if you're tall, and tailored trousers with a long top if you're big at the back.
You have to spend a fortune to look good. Not true! People who follow all the newest trends end up dressed like fashion victims. Looking good is all about finding clothes that suit your body shape, your personality and your way of life.
Put your hair up and wear red lipstick and pearl earrings to dress up a plain outfit.Pick a simple style when you buy a party dress - you'll get more mileage from it.

Sew Velcro on strapless bras and on dresses to keep everything in place.
Clip out labels from sheer blouses and bras.

The day before going out, check what you intend to wear for sagging hems, loose buttons or stains.
DON'T
Wear an over-the-top ball gown if the invitation is black tie. A party outfit - what used to be called a cocktail dress - is what you're meant to wear.

Risk anything too tight, too sexy or too see-through. Great for making an entrance in, clothes like this can ruin your night by making you feel too self-conscious.

Suffer by wearing uncomfortable shoes.

Carry a bulky handbag. Leave the clutter behind so that you can fit basics only into a small purse-style bag.

Put a casual jacket over a fancy dress. You'll only be cold getting there. So simply wear a coat and take it off as you arrive.
JEWELLERY CAN MAKE A DIFFERENCE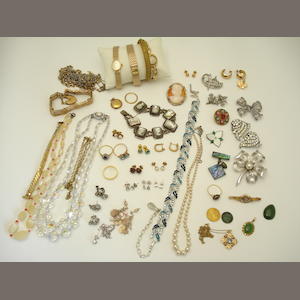 DO
Get together a basic collection of costume jewellery. It's a great way of instantly updating and cheering up a tired outfit.

Wear a necklace or choker if your top is low-cut.

Put bangles on the opposite wrist to your watch.

Brighten up a plain jacket with a brooch or pin.

Buy a two-tone watch so that you can wear it with both gold and silver jewellery.

Change your jewellery for a night out. If there's no time to go home to change your daytime clothes, adding pearls or a pretty chocker gives an outfit instant night-time glamour.

Wear studs or small hoops every day if you have pierced ears - don't just leave the holes showing.
DON'T
and finally - the ten biggest mistakes . . .
Mixing two season's clothes in one outfit. A thick jumper with last summer's linen skirt just doesn't work.

Wearing too many

c

o

l

o

u

r

s

at once. One very bright item is usually all you need.

Going out in a jogging suit when you have no intention of jogging!

Mixing

gold

and

silver

jewellery.

Teaming a long, full jacket with a long, full skirt. Unless you're very tall, you'll be lost under all that fabric.

Wearing high-heeled shoes with tracksuit bottoms or leggings. They may give you more height, but you'll also look tarty.

Wearing

sunglasses

at night, indoors or on dull winter days.

Putting on socks and trainers with smart trousers.

Wearing ankle bracelets under tights.

Dressing a lot younger than you really are.