Diary of a house seller - Part VIII, March 2013
(or 'The Ups and Downs of the Rollercoaster which is Moving House in England)
4 March: On return from our holiday in February we paused only to wash our holiday clothes and an for emergency visit to the dentist before rushing up the motorway to house hunt, again.
Before we went abroad we booked to view six houses, realising that we'd have to take the risk that any of them may have been sold before our viewings two weeks later.
However, estate agents must be really busy at this time of year, viz:
One of the houses we were to have viewed had been sold. However, the estate agent didn't think of phoning us to cancel the appointment. I only happened to notice when looking on the internet to see if any new houses had been put on the market. Her

response when I rung up was 'Oh well, you booked so long ago' (!).

Another house which we were going to view had had an offer. So we were advised not to view. Nevertheless, one of the staff members from the agency rang two days later to see what we thought of the property!
I could have understand if either of the above had happened many years ago, before computers. When messages were written down on scraps of paper or kept in people's heads and not shared but there's no excuse for such lax service now.
5 March: Yipee!! We've had our offer accepted on what, incidentally, was the first house we viewed (see previous diary of a house seller page). A photo will appear here when we're completely sure that it's ours!!
7 March: Had a telephone call from the agent to say that our proposed purchaser has had his mortgage agreed. So we can now go ahead and organise a survey on our new house and instruct our solicitors.
the last pic ...
oH, er! Perhaps it really is going to happen.
9 March: I've been lying in bed thinking about everything we need to do, now that we're actually on the move and - the really difficult part: we're downsizing.
Although we can start sorting, packing and planning, there's lots we can't do until our tenants and lodger move out. Much of their furniture will no longer be needed in the new house, so I'll soon advertise it in the paper and on freecycle. In my experience, eBay doesn't work too well down here, possibly because there aren't so many people, and many of them aren't used to using the internet. An article in the paper this week also mentioned GumTree and said that had been a useful site.
14 March: A relative has very kindly looked at our proposed purchase and seems happy with the structure.
15 March: I've contacted the removers and they're very laid back. Just said to contact them again when we know our date. Are things rather slack at this time of year?
17 March: I've been successfully distributing items via:
(a) freecycle;
(b) charity shops;
(c) local charity for garage sale (stuff perhaps a bit tatty for charity shops);
(d) given to organisations for raffle prizes (good condition stuff); and
(e) there's a growing pile of unwanted items which will be taken to the tip when there's a car-load.
Freecycle itself is a wonderful organisation (many thanks to older daughter for suggesting using this method). The principle of giving away things which we no longer need but which may of no use otherwise is brilliant. And it's amazing what people snap up.
But o
ne thing which has niggled a bit is one or two of the freecycle people - I think they know who they are - they say they're interested in an item (to make sure they get first offer). They arrange a time to pick up said item .... then don't turn up.
I've partly got round this by arranging to leave items outside the front door as our front door is not visible from the street so items aren't too likely to 'walk'.
The example which I had this weekend was where he didn't turn up when he'd arranged to come. Then I emailed him with a polite 'did you have trouble finding out house' (perhaps a bit too subtle?!).
His reply to that was just 'sorry'. Then when he did turn up, his attitude was as if he was doing us an enormous favour - which we were, perhaps, but we were also helping him! Glad, as he was a very big bloke, that I wasn't alone here in the house.
So, as I said, lots of stuff has gone and lots has been sorted - but, oh!, so much still to do. ... and to think that most of our possessions were only sorted last June/July.
Where do all these possessions come from?!! (I do know part of the answer to that one as, having taken six carrier bags of things to the garage sale, I still came home with a bulging bag of new stuff!)
18 March: Today I've started going through the kitchen cupboards, seeing what we can eat up, in order to have a little food a possible to cart to new house.
And what a surprise! Jars and jars of jams and chutneys, including one was hand made back in November 2006! Bottles of tomato and pesto sauces. Many packets of pasta and rice, and so many (boring) biscuits.
The latter reminded me that years ago we used to make 'broken biscuit cake', although no doubt this has a much fancier name these days.
Here's a BBC Good Food recipe for what's today called Chocolate Fridge Cake: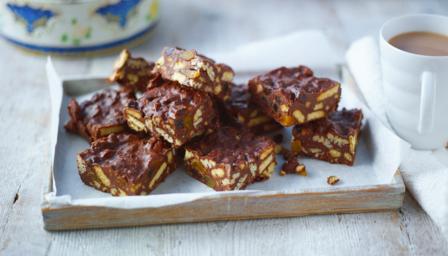 March 20: Had a phone call from the removers saying that, despite both the cost of insurance and of fuel rising since the quote last year that they would honour the quote. What stars!
They also suggested that it would keep costs down if we arrange to complete on a Wednesday or a Thursday, so save them running into a Saturday and overtime pay.
I accordingly contacted our solicitor with this suggestion. Is there a reason, set in stone, why we should always complete on a Friday?
March 23: Just had a call from our estate agent to say that the sale has fallen through - again - for domestic reasons which I'll enlarge on at a later date. Because of this, their buyer has pulled out, so the whole chain has collapsed.
I'm rather sad as was really looking forwarding to settling into the new house and area.
People in Scotland can't understand why our system is so complicated. Once a sale is agreed up there, it's legally binding
(
The principle difference in the system of land purchase in Scotland as opposed to England or Northern Ireland is that the concept of "subject to contract" does not exist in Scotland. We understand that where properties have been purchased in England or Northern Ireland subject to contract, it is open for the purchaser or the seller to withdraw from the bargain at any time up until the formal exchange of contracts. Whilst the procedures and terminology are different the closest comparison is to say that the conclusion of missives in Scotland is equivalent to an exchange of contracts in England and Northern Ireland, we believe. (
http://www.gapinthemarket.com/faqs.asp#1
))
(but there are down sides to the system, see article in The Independent:
http://www.independent.co.uk/property/house-and-home/house-hunter-how-does-the-scottish-system-work-528580.html
)
March 24: Time to face facts: we need to spruce up the house, ready for viewers. When it's warmer the garden will have a prune and tidy. But not at the moment, with temperatures nearer to zero than the seasonal average of 12C, although we're luckier than much of the country which has had snowdrifts and electricity has been cut off.
March 30: We have just had some viewers! It made us clean and tidy the house, even if that wasn't our primary plan for Easter weekend.