I've just discovered polymer clay.
Having always thought it was just for children to have fun with, I'm now realising just how useful this clay is and what can be made from it.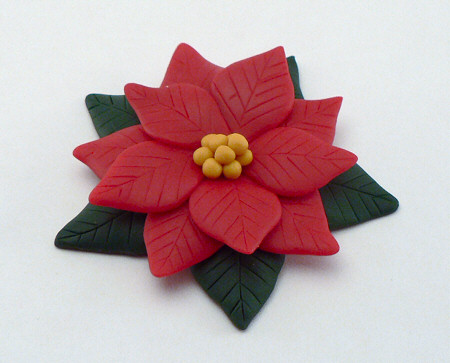 For instance, there's an article on the 'Planet June' site with details on how to make this Christmas poinsettia - to become a fridge magnet, brooch or even a tree decoration*.
A class was being offered on our recent holiday. I thought it would be worth 'giving it a whirl' - and am now hooked!
At the beginners class we learned how to make 'canes': rather like sticks of rock, where the pattern runs right through the middle of the cane. Then the cane was sliced finely to give masses of decorations!
Strawberry, anyone?
To quote our friend Wikipedia:
Polymer clay
is a type of hardenable
modelling clay
based on the
polymer
polyvinyl chloride
(PVC). It typically contains no
clay
minerals
, but like mineral clay a liquid is added to dry particles until it achieves gel-like working properties, and similarly, the part is put into an oven to harden, hence its colloquial designation as clay.
Polymer clay is generally used for making arts and craft items, and is also used in commercial applications to make decorative parts.
Polymer clay remains workable until cured generally from between
265 °F
(129 °C)
to
275 °F
(135 °C)
for 15 minutes per
1⁄4
inches (6.4 mm) of thickness.
This temperature is significantly less than for mineral clays and can be achieved using a home oven. The clay shrinks inconsequentially when cured, about 1–2%.
Brands of polymer clay include
Fimo
,
Sculpey
, Cernit, Formello, Modello,

and
Kato Polyclay
.
It's a very reasonably-costing hobby, with blocks of the clay costing about £2.50 for a 56g lump. This sounds quite expensive but only five colours are needed to get started: blue, red, yellow, black and white.
I found it was important to keep my hands clean as dye came off the black especially, making the other colours become rather muddy if I used them afterwards.
A few useful websites on use of the clay include:
http://www.earthguild.com/products/riff/rpolymer.htm
;
http://www.polymerclaycentral.com/masterindex.html
;
Instructions for children:
http://www.polymer-search.com/polymer-clay-crafts.html
and
http://www.joshclay.com/basic.html
Youtube:
http://www.youtube.com/watch?v=FCIdmU6m8LE
General Pinterest page:
http://pinterest.com/zanndee/polymer-clay-ideas-instructions-and-tutorials/
My Pinterest page:
http://pinterest.com/shushab/polymer-clay/
*
http://www.planetjune.com/blog/tutorials/polymer-clay-poinsettia-tutorial/.