Today's bag
I need (want) a bag to take on holiday, one which'll take lots of stuff and yet fold up really small.
This is the pattern I followed, here called a Sling Tote, see:
http://crazylittleprojects.com/2012/07/sling-tote-tutorial.html
My bag was made in the same way as in this link, except:
I didn't make a pocket but used the one already on the shirt used as lining material.

A made the strap by folding in the fabric and just stitching down the middle (saved the fiddly job of turning the strap inside out).
Voila! A beautiful, useful bag.
In case the site recommended is no longer accessible, here are the basic instructions:
Cut two semicircles of fabric (flowery, here), about 23" across.

Make five open darts, evenly spaced across the straight side, reducing the length to about 13".

Sew the two semi-circles together, leaving straight side open.

Cut out a piece of fabric for the top (stripey, here), 4" by about 30" and sew this all round the top.

Lay this onto the lining fabric and draw round.

Cut out two pieces of lining fabric (I used an old shirt, including the pocket to go inside the bag).

Sew the semicircles together, leaving straight side open.

Put lining inside the bag.

Make a strap, about 3" wide and 34" long.

Tuck strap in between bag and lining, tucking down about 4".

Fold down lining top and bag top and top stitch top and bottom of the top (stripy) fabric.
25 May: The bag was great success on holiday. Small enough to not feel cumbersome when nearly empty; but big enough to hold bottle of water, spare jumper, camera and all the other items which are indispensable when on holiday.
So now am going to make another one: the bottom is part of a now-redundant curtain and the top part is part of a pair of cord trousers. Watch this space ...
... and another idea from the same stable:
http://7layerstudio.typepad.com/7_layer_studio/2010/07/mini-wallet-tutorial.html
I can't wait to try making one of these!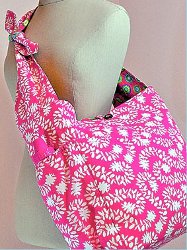 This is a bag I made recently for my daughter. Will soon put my own directions on here to make it perhaps more straightforward.
For instance, I didn't use washable fabric inside as we decided to us ordinary fabric and wash the bag often. I also made the strap the length desired by the new mum (46") so the bag could be carried behind, leaving space in front to carry new baby:
http://www.allfreesewing.com/Sewing-for-Baby/Quick-Trip-Diaper-Bag/ct/1
or also on
http://www.sew4home.com/projects/storage-solutions/baby-gifts-pretty-bird-quick-trip-diaper-bag
A couple more ideas I'd like to try are:
...
http://freshcrush.com/2010/08/diy-purse-organizer/
http://tidymom.net/2011/survival-kit/#more-9963
http://www.allaboutyou.com/craft/sewing-bags#yes