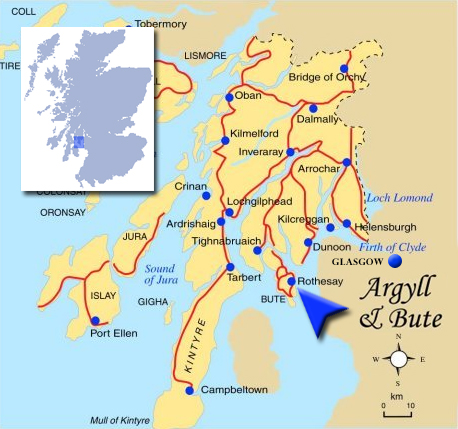 We've just returned from a brilliant midweek break in Rothesay, which is on the Isle of Bute, way over on the west of Scotland. When Prince Charles is in Scotland he is no longer the Prince of Wales, or even the Duke of Cornwall, he's the Duke of Rothesay, of which I'm sure the islanders are very proud (
http://www.royal.gov.uk/ThecurrentRoyalFamily/ThePrinceofWales/Stylesandtitles.aspx
)
When we lived in a cottage in Cornwall which had formerly belonged to the Duchy of Cornwall, one of the clauses in our deeds was that Prince Charles could come and inspect our drains whenever he liked - he never did. But to return to the island of Bute ...
On the whole the weather was pretty good, being mainly dry and even bright and sunny at times.
We travelled over to Bute via the ferry from Wemyss
Bay
(pronounced Weems) which, judging by its size, must have been incredibly busy in its heyday with all the people escaping from Glasgow for the day. (
http://wemyssbay.net/about/history.html
)
Part of the magnificant Wemyss Bay Railway Station
in the foreground is a display of flowers (not a Christmas tree).
Wemyss Bay Railway Station is quite a building and very interesting historically, thus there's even a Friends of Wemyss Station:
info@friendsofwemyssbaystation.co.uk.
Their site is at present dormant but as they say 'watch this space'.
Bute and beyond, looking from Wemyss Bay




By the time we crossed over to Bute itself it was dark, so no photos, but there are some later of our return journey.




Our first day's trip was to explore the south part of Bute, stopping first at beautiful Etterick Bay, see photo. In contrast, underneath is a black and white photo of the bay in its heyday, before cheap international travel made it more economic to holiday abroad.

Etterick bay

We then ventured on around the southern side of the island, stopping at a convenient hostelry in Kingarth for a quick half, also buying a bottle of the local mead (a sort of honey wine).
looking landwards
Looking west:
middle of the day - looking into the sun
Day two was quite a day: we visited Mount Stuart (
http://www.mountstuart.com/house/
)
. It's difficult to describe in words what a fantastic (literally) place this is. Partly because it's so amazing and partly because we were rushed round the place in less than an hour.
It was really interesting having a guided tour, especially as our excellent guide, Margaret, has worked for the family for many years so really knows her stuff.
We hardly had chance to look at the rooms we were in as by the time Margaret had finished telling the tale, we were whisked on to the next room. More free-flow days for visitors please!
Unfortunately it's impossible to see how wonderful this house is as photos don't seem to do it justice, even in the guide books on sale in their shop.
This 127-room house is still lived in by the family and it was possible to imagine that the house could still feel like home, despite the majestic architecture and some enormous 'rooms'.
A fab venue for a wedding, I understand one of
Paul MacCartney's daughters was wed in this chapel.
Unfortunately, we were told that our ticket didn't cover the gardens, only the house. So after our hour's guided tour we hung about a bit, waiting for the time to return on the coach.
Then I overheard someone saying that the gardens were included in our entrance fee! So we walked around, trying to see as much of the gardens as possible.
Here are a few photos of the bits we did have time to visit, plus one of the kitchen garden:
the rock garden
The old house, attached to the new - most unusual!
That afternoon we had a look at Rothesay itself, visiting the museum (
http://www.butemuseum.org.uk/
) which was well worth the nominal £3 (conc £2) entrance fee.
It felt like the local community were very involved, especially the local schools and that the islanders were, justly, very proud of their heritage.
In the town, as well as the castle (see pic - what a beautifully kept moat), there were lots of shops, selling everything anyone could want on a daily basis.
There were gift shops, charity shops, second hand furniture shops, and even a shop called 'Glamour' selling sensible pyjamas, which I found rather funny! Everyone was very friendly, especially the shop where I bought a lovely leather purse: Good Things (
https://www.facebook.com/pages/Good-things/156488321081245
).
Further on I saw some Avon Skin so Soft moisturiser for sale and, as my skin was feeling rather dry in the Scottish breeze, decided to buy some.
The shop sells bikes and golf apparatus but, on an island like Rothesay, many shops sell all sorts of items. When I went up to the counter the shopkeeper said 'oh, I thought the midges would have finished by now!'.
Apparently outdoor types use Skin so Soft to keep the midges away, and not to keep their skin lovely and soft!
Oh, and I nearly forgot: the building which would not look out of place in a Poirot mystery (
http://secretscotland.wordpress.com/2013/05/25/appeal-for-memories-of-rothesay-pavilion/
):
On our last day many people went on a coach trip to Dunoon (
http://www.tripadvisor.co.uk/Tourism-g190750-Dunoon_Argyll_and_Bute_Scotland-Vacations.html
), stopping on the way at Ben More (
http://www.scotlandsgardens.org/gardens/garden/cb7cd9c1-d611-4500-bcaf-99980130d322
), although only for a coffee break.
Here are a photo of our ferry journey back to the mainland and goodbye to the Isle of Bute, for the time being:
A link to a fascinating site about the history of the river Clyde:
http://www.glasgowhistory.com/sailing-down-the-clyde-%E2%80%9Cdoon-the-watter%E2%80%9D.html
and some other interesting sites:
http://tour-scotland-photographs.blogspot.co.uk/2010/04/old-photographs-rothesay-scotland.html
http://dougie-coull-photography.blogspot.co.uk/2012/03/wee-day-trip-to-rothesay.html