Now that it's more than half way through November it's time to start thinking about Christmas, so here are some craft projects to get us into the mood
Firstly here are some crocheted stars which come courtesy of the excellent blog Attic 24 from up in the north of England:
(http://attic24.typepad.com/weblog/crochet-snowflake.html).
These stars can be made in any size using suitable yarn, so can made with any leftovers from other projects.
Here's a Christmas holly place mat - or the holly part could be made separately as a decoration in its own right. The pattern can be downloaded from this site:
http://www.freecraftunlimited.com/crochet-christmas-holly-placemat.html
If a Christmas tree bauble's more your style, here's a straightforward pattern:
http://kraftyzales.blogspot.co.uk/2010/11/how-to-crochet-christmas-tree-bauble.html
Or even a seasonal tea cosy. Talking of which, did you know that, if left alone in a room with a tea cosy, 85% of men will try it on his head?! I think any man will look very fetching in this number!
(
http://www.craftjuice.com/story.php?title=2_Cup_Crochet_Christmas_Pudding_Tea_Cosy_by_andrealesleycrochet
):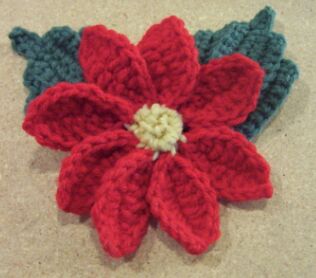 And finally Christmas wouldn't be Christmas without a poinsettia, so here's a perpetual one, again from the site

Craft Unlimited

: http://www.freecraftunlimited.com/crochet-pointsettia-flower.html

: